Central Middle School has been identified as a TItle I School for the 2020-21 school year. Parents may pick up more information about Title I at the Title I Parent Resource Center located in the office of the school across from the reception desk.
Title I System Family Engagement Coordinator: Kay Morgan 678-890-1416 kay.morgan@carrollcountyschools.com
Title I CMS Family Engagement Coordinator : Tammy Thomas 770-832-8114 tammy.thomas@carrollcountyschools.com
Carroll County Schools Title I Information
If you have questions or concerns about our Title I program, please use the weblink below to contact someone at the federal level: Federal Programs Complaint Link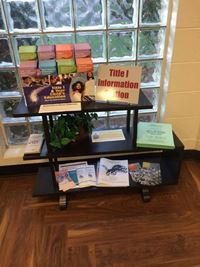 Carroll County Schools Parent and Family Engagement Plan
Central Middle School Report Card

Central Middle School Report Card - Spanish
Central Middle School will hold its Title I Parent Input Meetings from 9am - 5pm during each of the school's Meet & Greet opportunities to include the following:
Tuesday, August 11 & Wednesday, August 12 (6th Grade Atrium)
Thursday, August 13 & Friday, August 14 (7th Grade Atrium)
Tuesday, August 18 & Wednesday, August 19 (8th Grade Atrium)
Title I Parents will have an opportunity to provide input on the following federal requirements:
Title I Schoolwide Plan

Parent and Family Engagement Plan

School-Parent Compact

1% Parental Involvement Budget
A hard copy of the FY21 Title I Schoolwide Plan has been placed at the front desk of the CMS office with receptionist, Kristine Smith, and is available for perusal during the school's hours of operation.
Due to COVID-19 and safety protocols, the Central Cluster will be unable to hold its Annual STEM Night at CMS. Below is a document (both in Spanish and English) that outlines the importance of Science along with activities that can be completed as a family. Sharing together will continue to make us LIONSTRONG!