Central Middle School has been identified as a TItle I School for the 2019-20 school year. Parents may pick up more information about Title I at the Title I Parent Resource Center located in the office of the school across from the reception desk.
Title I System Family Engagement Coordinator: Kay Morgan 770-832-3568 kay.morgan@carrollcountyschools.com
Title I CMS Family Engagement Coordinator : Tammy Thomas 770-832-8114 tammy.thomas@carrollcountyschools.com
Carroll County Schools Title I Information
If you have questions or concerns about our Title I program, please use the weblink below to contact someone at the federal level: Federal Programs Complaint Link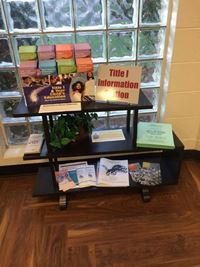 CMS will hold its Title I Parent and Stakeholder Input Meeting during each of the school's open houses.
Central Middle School Report Card
Central Middle School Report Card - Spanish
Parent Right to Know Letter - Spanish
The Title I Schoolwide Plan has been approved and is available for viewing at the link below. A hard copy of the plan has been placed in the school's Title I Schoolwide Notebook which is located in the front office of CMS with the school's receptionist.
FY20 School Parent and Family Engagement Plandraft
FY20 School Parent and Family Engagement Plan
CMS will hold its first Title I Parent and Family Engagement Night...Journey Through the Curriculum...on Monday, September 9, 2019 from 6-7:15pm. Please plan to join the faculty and staff as you travel through your child's schedule to receive a curriculum overview as well as classroom expectations and homework tips.
CMS will hold its annual Title I Central Cluster STEAM Night on November 7 from 5:30-7pm at Central Middle School. We look forward to seeing everyone at this enjoyable community learning event.
Join us on February 4, 2020, for our Title I Parent Information Session: Advanced Opportunities. This informative session will be held in the CMS Media Center from 6pm-7pm.
Each year Carroll County Schools asks its stakeholders for their help to determine areas that need improvement in our school. We appreciate your taking the time to provide us with information that will help achieve our vision of being a "Premier School System." The survey linked below should take approximately 10 minutes with your progress being shown at the bottom of each page. Please help CMS better serve our students by clicking on the link below and completing the survey. Thank you, in advance, for your help! https://carrollcounty.iad1.qualtrics.com/jfe/form/SV_4Nsl27FzdDWjxel?fbclid=IwAR1JQAQQTmhmLmLyF6J1ADc7ObRO5JNIKMUzEf7xZlIXBHfM317uXkKRp10